by Edmund Bird & Fiona Price
Photographs by John East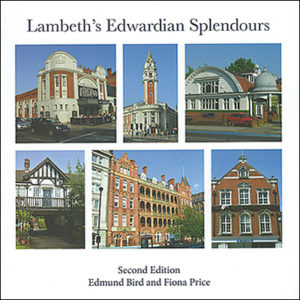 Edwardian baroque was a style often used for public buildings, like Lambeth Town Hall, but influences were also drawn from the Georgian period, the Arts and Crafts movement and Art Nouveau.
Published by Lambeth Archives
2013 | 104 pages | colour illustrated | ISBN 978-0-9926695-0-8
£9.00
£11.50 per copy from us, including £2.50 P&P (UK only)
Overseas P&P on application – see Contact us
Order now through PayPal with a credit or debit card. You do not need to create a PayPal account.