"Where does the name Herne Hill come from?"
John Speed's c.1610 map shows the area as King's Hill. Whereas John Rocque's 1746 map (An Exact Survey of the Citys of London, Westminster, ye Borough of Southwark, and the Country near Ten Miles round) shows the area as Island Green and Dulwich Hill.
And Bennost's 1758 map (above) shows the area as Dulwich Hill.
It may be that the River Effra – now sadly almost all underground – attracted large numbers of herons, so that a hillock by the river came to be known as Heron Hill. Another interpretation of the name is "hill by a nook of land" deriving from the Old English hyrne (corner, angle) hyll. The first documented reference to Herne Hill seems to be as late as 1801.
The nineteenth century
Glass-maker John Blades demolished a house located near what is now the Norwood Road park boundary and built Brockwell Hall, a mansion at the top of the hill. Perhaps the original building's proximity to a tributary of the River Effra made it too damp.
In the 1820s, the Regent Road estate was built to house labourers and gardeners. However, Herne Hill remained largely an affluent rural district of large mansions and gardens.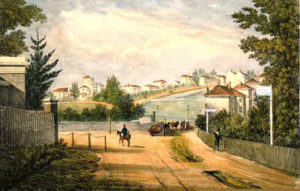 Herne Hill's rural tranquillity changed with the coming of the railways. In 1862, Herne Hill station appeared in a field at the bottom of the hill. At first Herne Hill was the terminus; but a year later the London, Chatham & Dover Railway opened the line south to Beckenham. The railway encouraged smaller houses for clerks, artisans, craftsmen and their families, the workers taking advantage of cheap fares for commuting into London.
The 150th anniversary of the opening of Herne Hill Station took place on 25 August 2012. A party was held with talks and a presentation. Find out more on the Herne Hill Society blog
For those who wish to know more, there is a very complete history of Herne Hill railway station on Wikipedia.
In 1868 development of Railton, Poplar, Milkwood, Lowden and Heron Roads began. As a result the local population increased by some 3,000, with schools and churches following to meet their needs. John Ruskin, a local resident, deplored the area's decline and the expansion of cheap housing. However, in 1885 he was still able to describe Herne Hill as "a rustic eminence four miles south of the Standard in Cornhill" of which "the leafy seclusion remains unchanged to this day".
Towards the end of the 19th century the Dulwich House Estate was developed, with roads laid out in one coherent plan (from Danecroft Road to Ruskin Walk and Ardbeg Road).
In 1892 Brockwell Park was established as a Metropolitan Open Space, on part of the original Brockwell Hall estate. The only sad aspect of this event was the sudden death at the opening ceremony on 6 June of Thomas Lynn Bristowe, MP for Norwood. It was through his efforts that the plan to establish the park had been achieved. Two later land purchases brought the park to its present extent.
The restored bust of Bristowe is now back at Brockwell Hall. It was unveiled on 6 June 2012 by the Mayor of Lambeth (Councillor Clive Bennett) and Thomas Bristowe (descendant of Thomas Lynn Bristowe). More on the Herne Hill Society blog
Towards modern times
Regular horse-tram services had arrived in Herne Hill in 1884. From Loughborough Junction trams passed under the railway bridge at Hinton Road and along the length of Milkwood Road. Electrification and double-decker trams came in the early 1900s when the London County Council took over the service.
The bridge over Hinton Road was too low, and part of Milkwood Road was too narrow to take two tram lines. The route one way was changed to Herne Hill Road, Wanless, Poplar and Lowden Roads, then taking the old route via Milkwood Road to Herne Hill station and Norwood. The trams were phased out in the 1930s in favour of buses.
In 1904 the part of Denmark Hill on the north side belonging to the Sanders Estate came on the market. Thanks to the efforts of Frank Trier, a Champion Hill resident, the land was saved from planned housing development, and was opened to the public in 1907 as Ruskin Park. Three years later another 12 acres were added to enlarge the Park to its present size.
In 1906 Herne Hill's fire station opened next to the Postmen's Office. It remained operational until 1920, when services were taken over by a new fire station in West Norwood. Also in 1906 the Carnegie Public Library opened in Herne Hill Road; it was listed Grade II in 1981.
The First World War brought many changes to Herne Hill. At the beginning of the war, the newly opened King's College Hospital, which had moved to Denmark Hill from its original Aldwych site in 1913 to become a teaching hospital, was taken over by the War Office. It was known as the 4th London General Hospital, but it also continued to care for the civilian population. A footbridge was built over the railway from the hospital; and Ruskin Park became an annexe of King's, with huts for convalescent soldiers. St Saviour's Church in Herne Hill Road formed a club for soldiers' and sailors' wives, and gave concerts to the wounded troops from King's.
The Wellcome Physiological Research Laboratories, which since the end of the 19th century had occupied one of the houses (now disappeared) in Brockwell Park, worked overtime on antitoxins for diphtheria, typhoid, typhus and anti-gas serums during the First World War.
There was no efficient food rationing system and many shortages occurred. A lot of people dug up their flower beds and lawns to plant vegetables. In Brockwell Park grazed a large flock of sheep. Over 550 local young men did not return from the war. Some of their names are recorded on a screen in St Paul's, Herne Hill. Two war memorials are in the former St John's church, Lowden Road, and in the Peabody Estate, off Rosendale Road, a memorial in the form of a lych gate was erected by the estate tenants to the 35 men from the estate who lost their lives in World War One. And in 2019 a Welsh slate memorial designed and engraved by Mark Brooks was installed in Herne Hill station. This memorial came about through a campaign by the Herne Hill Society.
Among the greatest post-war changes was in the role of women in society. Those over the age of 30 received the vote; King's College Hospital Medical School admitted women students for the first time, and three out of the 10 senior staff at the Wellcome Laboratory in Brockwell Park were women – and all three were Fellows of the Royal Society.
The inter-war period also saw significant housing developments in Herne Hill. The former estate of Casino House was bought by the then Metropolitan Borough of Camberwell, and the Sunray Estate built there in response to the cry for "homes fit for heroes".
Fortunately the south-eastern part of the Casino Estate, with its small lake, was not developed but was used to form the attractive Sunray Gardens park.
The large Grade II listed Dorchester Court estate was built in 1936 on Herne Hill, on the site formerly occupied by large 19th-century villas. In 1937 our much-loved Lido was built in a corner of Brockwell Park. This Art Deco Grade II listed building has been extended and transformed in recent years and now offers health and fitness facilities all year round, as well as an award-winning cafe.
The Second World War saw much damage to Herne Hill, particularly during the 1940/41 Blitz. Few streets escaped damage. There were nearly 100 civilian deaths between September 1940 and February 1945 as a result of enemy action.
After 1945 priority was given to repairing damaged properties. But 'pre-fabs' were also put up; and later, new houses were built on vacant bomb-sites. These contrasted significantly with their neighbouring late Victorian and Edwardian properties. Many large houses were demolished or converted into flats. New small blocks of flats were built and later, larger local authority estates of flats and houses, including tower blocks, such as in Dulwich Road.
Herne Hill today
Today, Herne Hill is a lively, vibrant and diverse community of about 12,000 people; and sought after as a place to live. It has a wide range of shops, bars, restaurants, parks and open spaces and its own Lido. Brockwell Park is one of London's finest parks.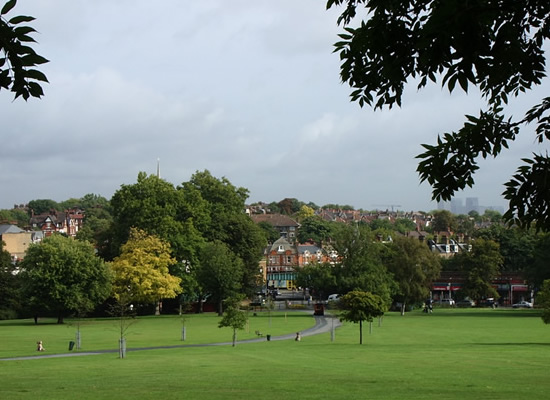 We have no Underground station, but there are excellent transport links: bus and rail connections to central London (9 min to Victoria, for example), the City and the West End, as well as south to Wimbledon, Sutton, Bromley and Orpington. Occasionally even to Rochester! The Victoria Line at Brixton is only a short bus ride or walk away.
Herne Hill has a very active local community, supporting a wide range of organisations such as the Herne Hill Forum and various Friends groups, as well as the Herne Hill Society – all working to preserve what is best about Herne Hill and to enhance the area for the future.
Herne Hill also has a thriving arts scene, with an annual Music Festival and a Free Film Festival. Current residents include author and journalist Jay Rayner, Oscar-winning actor Sir Mark Rylance and Turner Prize-winning sculptor Richard Deacon.
Some old industries have closed down or moved away. The former Fisher bookbinding site, on the corner of Norwood and Croxted Roads, has been developed into flats; and the large site formerly occupied by Nevill's Bakery in Milkwood Road is now Milkwood Community Park.
There are a number of small and medium-sized businesses in Mahatma Gandhi and Bessemer Park Industrial Estates, on the former site of railway sidings along Milkwood Road. The railway arches parallel to Norwood Road are home to a variety of light industrial activities. Otherwise employment is in the service sector: shops, pubs, restaurants etc. However, this is mainly a residential, rather than commercial or industrial area: a place where many people find it convenient to live and travel to work elsewhere. Herne Hill has become a very popular area for families, and house prices have risen hugely.
Among Herne Hill's fine drinking establishments are two micro-breweries (Canopy and the Bullfinch), and the Commercial, Florence and Grade II listed Half Moon pubs. You won't go thirsty.
Herne Hill continues to develop. Brockwell Park has been upgraded through a multi-million pound regeneration project, supported by the Heritage Lottery Fund. In December 2010 the completion of the Herne Hill Centre Regeneration Project was celebrated in the newly-pedestrianised part of Railton Road (Station Square).
Herne Hill hosts a very successful weekly Sunday Market.
Whether you come here to live, work, or visit, you will find Herne Hill – and its inhabitants – attractive and welcoming.
Don't take our word for it. Read this report on Dulwich Online