by the Herne Hill Society
Maps by Rebecca Lea Williams
Drawings by Don Bianco and Laurence Marsh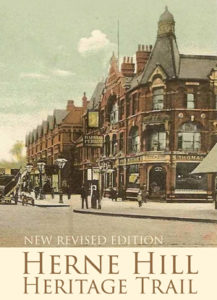 Two hundred years ago Herne Hill was just a scattering of houses lying amidst fields and farms. In this fully revised edition the history is traced of many changes over the last two centuries. It is told through a mixture of buildings, places and objects – some to be seen to this day but others long gone – and the people associated with them.
With six hand-drawn colour maps and many other new illustrations, this book explores the unique identity of Herne Hill.
Published for the Herne Hill Society by Local History Publications
2014 | 168 pages | colour illustrated | ISBN 978-1-87352091-8
£9.50 | Trade terms available
£11.00 per copy from us, including £1.50 P&P (UK only)
Overseas P&P on application – see Contact us
Order now through PayPal with a credit or debit card. You do not need to create a PayPal account.