by Patricia M. Jenkins, revised John Brunton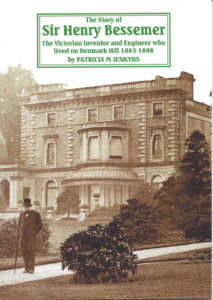 Henry Bessemer (1813-98) was a successful entrepreneur whose steel-making process sparked the industrial revolution. Contains extensive material on the huge house and estate on Denmark Hill where he lived for the last 35 years of his remarkable life.
Published for the Herne Hill Society by Local History Publications 2013 | 52 pages | b+w illustrated | ISBN 978-1-873520-95-6
£5.00 | Trade terms available
£6.50 per copy from us, including £1.50 P&P (UK only)
Overseas P&P on application – see Contact us
Order now through PayPal with a credit or debit card. You do not need to create a PayPal account.

"The book is such a professional presentation, and the photographs and images work so very well. I had yet to see a picture of Hillcrest Lodge! The expanded section on SS Bessemer is also very impressive, and it was fascinating to see a picture of the saloon on location at Swanley. Many congratulations!" – Paul Bessemer, great-great-grandson