News: Events
brockwell
Field Day and Lovebox/Citadel: early June and mid July 2018
The prospect of three major events (the free Lambeth Country Show plus two gated, paying events) leading to six weeks' enclosure of a third of Brockwell Park within two months next summer dismays many residents.
The proposals are for 40,000 people per day for Lovebox, taking up 36% of the park. Field Day will average 25,000 people over three days, taking up 31%.
Given that these are expensively priced events, there seems to be little, if any, clear benefit to the general community of Herne Hill in these proposals. Loss of the amenity of large areas of the park for extended periods during the summer (weeks rather than days) is a major factor, in addition to the large crowds and noise nuisance of the three-day events themselves.
We believe that the numbers planned for, with most people arriving and leaving within a narrow time slot, will be very disruptive to residents and visitors who wish to move around the area and will not be welcomed by the majority of traders.
Neither of these events has yet been given the green light by Lambeth Council's events department. If you are concerned and want to tell Lambeth how you feel, sign the Brockwell Streets petition!
https://www.change.org/p/lambeth-council-pledge-to-keep-brockwell-park-events-sustainable-and-proportionate/
We have objected to Lambeth Council about both these proposed events. You can read our letter here.
Download our letter of 21 January 2018 [PDF]

Herne Hill Sunday Market
Herne Hill Market on Facebook [external link]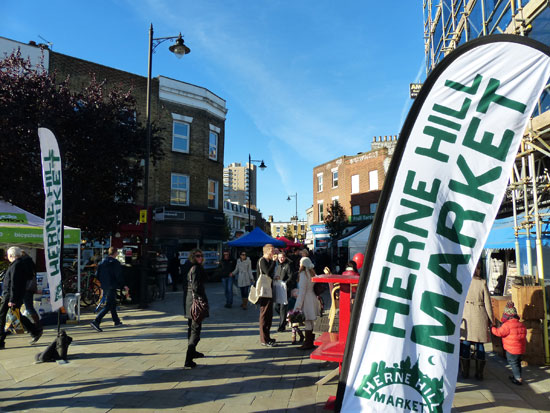 More on the Herne Hill Society blog [external link]
---
Herne Hill's premier event is the annual Lambeth Country Show, which takes place in Brockwell Park in late July.
We also have an annual Music Festival and a Free Film Festival.
A good source of online information is the Herne Hill Forum website, which includes an events calendar.
There are two noticeboards in Herne Hill: one outside the Half Moon pub, Half Moon Lane (Southwark side) and the other by Brockwell Art Services, Railton Road (Lambeth side). These noticeboards are maintained by the Society.
The Society has a programme of monthly meetings, usually held at Herne Hill United Church Hall. See About the Society: Society meetings.