News: Events
Events
Armistice Day at Herne Hill Sunday Market
We will commemorate this anniversary with a silence at 11am. This has the support of the Herne Hill Forum as well as Southeastern Railway, who run the station. There will be an advance announcement at the station. Our Town Crier, James Castle, will also be in evidence to ensure that market-goers are aware.
The Herne Hill Society has been working on an HLF-funded project to identify all Herne Hill's First World War casualties. There is no civic war memorial in Herne Hill, although there are church and small community memorials.
Southeastern have also agreed to put up two panels below the information screens in the ticket hall.
We will hand out a flyer to tell people what is happening on the day.
Herne Hill Market on Facebook [external link]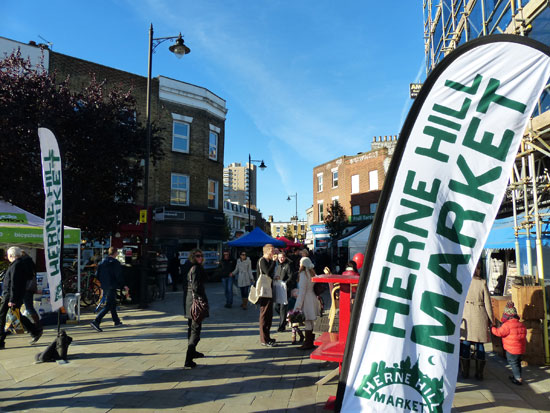 More on the Herne Hill Society blog [external link]
---
Herne Hill's premier event is the annual Lambeth Country Show, which takes place in Brockwell Park in late July.
We also have an annual Music Festival and a Free Film Festival.
A good source of online information is the Herne Hill Forum website, which includes an events calendar.
There are two noticeboards in Herne Hill: one outside the Half Moon pub, Half Moon Lane (Southwark side) and the other by Brockwell Art Services, Railton Road (Lambeth side). These noticeboards are maintained by the Society.
The Society has a programme of monthly meetings, usually held at Herne Hill United Church Hall. See About the Society: Society meetings.