About the Society: Society meetings
Our meetings and how to get there
Our public meetings are held on the second Wednesday of most months at Herne Hill United Church Hall, Herne Hill (junction with Red Post Hill), London SE24 9PW.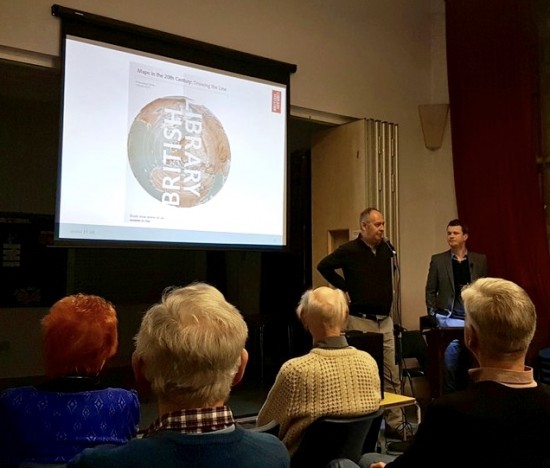 For venue (unless otherwise stated), see the map at the bottom of this page. Our guest will normally speak for 45-60 minutes, followed by around 15 minutes for questions and discussion. Then we take a refreshment break, a raffle and announcements.
Meetings are free and open to non-members, so bring your friends along. But as no tickets are issued, we cannot guarantee a seat.
We start promptly at 7:45pm (doors open at 7:30pm). Please arrive before the speaker is introduced to avoid disturbing others.
Talks
There are no talks in July and August (see below for walks).
Wed 13 September, 7:45pm
"The History of Your House"
by Alan Piper
A talk for Lambeth Heritage Month by the Chair of the Lambethans Society, with mainly local examples.
Download the Lambeth Heritage Month brochure
Wed 11 October, 7:45pm
"Evelyn Dove: Britain's Black Cabaret Queen"
by Stephen Bourne
Historian Stephen Bourne celebrates the life and career of the glamorous singer Evelyn Dove. In the inter-war years she thrilled audiences around the world and during WW2 she kept the home fires burning with her appearances on BBC radio.
Wed 8 November, 7:45pm
"Anna Storace and Herne Hill"
by Emmeline Leary
This year is the 200th anniversary of the death of the Mozartian singer and actress Anna (or Nancy) Storace, one of Herne Hill's most fascinating residents.
The venue, and how to get there
Herne Hill United Church Hall is the smaller building next to the Church. It is on the 68/468 and P4 bus routes, and a 15-min walk from the following stations: Herne Hill, Denmark Hill, Loughborough Junction and North Dulwich.
The hall is accessible to wheelchair users.
Local History Walks
Robert Holden will lead three walks in August based on our book, Herne Hill Heritage Trail.

Sun 6 August, 2:30pm
All Saints' Church, Lovelace Road entrance
Sun 13 August, 2:30pm
Herne Hill Velodrome, Burbage Road entrance
Sun 20 August, 2:30pm
Herne Hill Station

Each walk lasts about 90 minutes.
Meetings you may have missed
To get an idea of the sort of events we put on, go to our Facebook page. Talks are reviewed in our quarterly Herne Hill magazine.