The Pubs of Dulwich and Herne Hill
How to order from us - UK only

* You can order through PayPal with a credit or debit card. Choose 'Check out as a guest' if you do not have (or do not wish to create) a PayPal account.
* We will add £1.50 P&P per item.
Go to Bookstall Online to order ->
About this book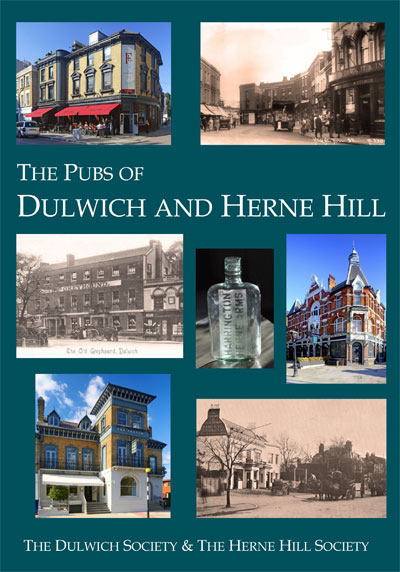 The stories of the pubs in one corner of South London are brought together for the first time in this book. With the help of over 100 illustrations, they reveal much about the growth of London itself over the past three centuries. The book also offers insights into social conditions, for example through accounts of coroners' inquests that were often held in pubs, or of the labourer calmly loading his gun in the Crown in Dulwich Village, while vowing to kill a parish official – and coming close to doing so. The loss of pubs, particularly in London, continues unabated.
With over 100 illustrations and 28 pages in colour, this book is an essential record of the many pubs that are gone and a celebration of those that continue to serve the Dulwich and Herne Hill communities.
Written by John Brunton, Laurence Marsh, Ian McInnes and John Walters
Published by The Herne Hill Society in association with the Dulwich Society
Over 100 copies sold in the first three weeks!|
#thirstforknowledge
Download Press Release [PDF, 201KB]
* Very timely given that two of the largest pubs in the area have been closed for years!
* 40 pubs described
* From the 17th century to the present day
* Fox hunting
* Football and cricket
* Murders and mayhem
* Regular coach services to London
* Publicans in the Dulwich burial ground
2016 | 130 pages | colour illustrated | ISBN 978-0-9540323-1-9
£9.50 | Trade terms available
£11.00 per copy from us, including £1.50 P&P (UK price)