Judith Kerr Primary School
Judith Kerr Primary School opened in September 2013 on the site of the former James Black laboratory, King's College Department of Botany, at 62-68 Half Moon Lane.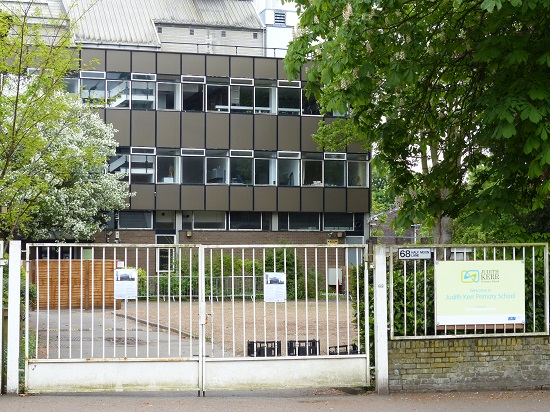 School grounds
The Dulwich Estate, which owns the freehold to the school grounds, wishes to develop the green space playground for the Dulwich Almshouse Charity. It aims to relocate the almshouses situated in Dulwich Village in a new development for up to 20 elderly residents on the school grounds.
If this development goes ahead, the 350 schoolchildren would lose much of their outdoor play and sports space. The Herne Hill Society's Planning Group has lodged an objection to this application of Southwark's planning website.
Read the Herne Hill's Society's objection
Background
The school's patron, Judith Kerr, is a German-born writer and illustrator who came to London as a refugee during World War Two. Her books include the Mog series and The Tiger Who Came to Tea. The school is a bilingual German/English primary school, set up using the Government's 'Free School' initiative.
Until the school opened in 2013, the site and the main building had been unoccupied for some years. In view of its importance, two years ago the Society wrote to Southwark suggesting that development guidelines be prepared for the site. The idea was not taken up. However in 2013 we received notification of a planning application for temporary classrooms on part of the site for use as a 'Free School'. Our main concerns were about the potential traffic impact of parents dropping off children, the effects on local parking and the future of trees on the site. We did not object to school use, but did point out flaws in the traffic studies.
It became clear that the planning application could not be considered in time for any building works to be completed before the start of the school year. The application was then withdrawn and the school made use of a change in planning legislation that allowed Free Schools to open for a year in existing buildings without the need for a formal application. Given the very high flows of pedestrians (with scooters and parents) at school time past the school entrance, there were concerns about child safety.
However the school has now been operating for several years without any traffic or safety concerns.
Judith Kerr Primary School website [external link]