Herne Hill's Great Flood
The flood of Wed 6 August 2013 was disastrous for Herne Hill, affecting 35 businesses and two residents. Some shops never recovered and have PERMANENTLY closed.
The Half Moon pub – closed until Feb - Mar 2017
In August 2013 the basement was completely flooded. The Dulwich Estate, the freeholder, took back the lease and, after long negotiations, finally announced in January 2016 that the new lessee would be brewer and pub chain Fuller's. The planning application was granted by Southwark in April 2016. Contrary to popular belief, its recent Asset of Community Value status does not guarantee its continuation as a music venue.
The pub is now under scaffolding; work is apparently progressing well.
See our page on the Half Moon pub
Kindred Bakery – closed… now The Roome coffee shop
Number 22 Restaurant – closed… now Aitch hair stylists
Merry-Go-Round – closed…now Glistering Nails
Organic Beauty spa – closed… now Clepsydra barbers
Just Williams toy shop - closed not because of the flood, but as a result of Dulwich Estate's rent increase… now Vintage 1824
---
A personal account by the Society's Chair, Colin Wight
It's 8:00am on Wed 6 August, and I hear on BBC Five Live that Dulwich Road is closed.
Then Twitter comes into its own. The tweets start 'flooding' in. Is that an inflatable boat sailing down half Moon Lane? When we see more pictures and videos we realise this is going to be pretty bad for people who live and have their businesses in the town centre.
There are no buses running on Herne Hill. A Thames Water van overtakes me. Further down Herne Hill the main road is taped off and there's a police officer to explain why.
Approaching the new student flats I can see the scale of the problem for myself: a huge new lake makes it impossible to get into Half Moon Lane. It's just before 9:00am, about 4 hours after the break in the mains pipe occurred, I am told. The level must have gone down since then, but it's still pretty bad.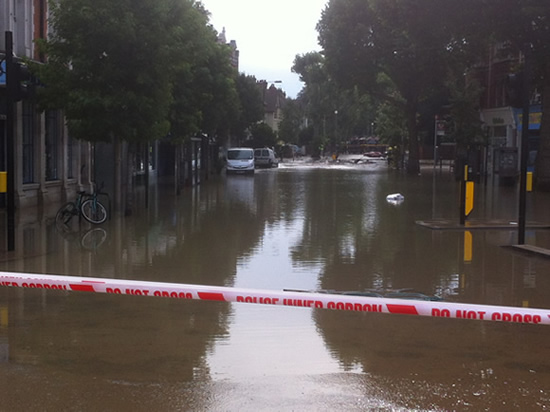 As the day goes on it develops into a top news story. Herne Hill is on the BBC website's home page but we are not celebrating. Over 30 homes and businesses are badly affected. As the water is pumped out, the mud and mess is left behind.
By noon, there are hundreds of photos starting to
appear over the web, including this amazing aerial shot: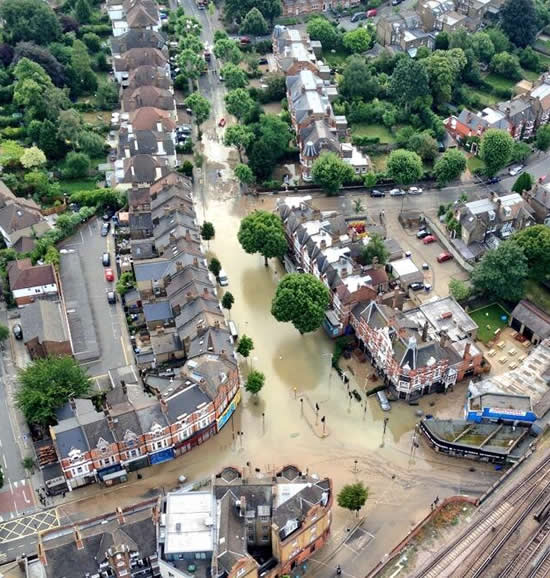 Some of us remember Herne Hill being very badly flooded in 2004. But whereas that was due to rainwater and blocked drains, this is all because of a broken three-foot-diameter pipe. What makes it worse is that, according to a report in the Evening Standard, a concerned resident reported the leak on Tuesday, only to be told by Thames Water that it wasn't an urgent problem. They agreed to send an engineer within three days…
In case you missed the TV coverage, here is a report from ITV News.
By the following afternoon, Herne Hill Forum's Thakorbhai Patel (a legend!) had talked to each and every trader in Half Moon Lane starting with Cafe Provencal and the Half Moon, and the shops as far up as Stradella Road on both sides. Then on to Herne Hill itself (Pizza Express and the electrical shop opposite), and finally Milkwood Road (White Feather). They had all contacted their insurers. Thames Water's loss adjusters had visited, or would be visiting, all of them. Some shops looked as if they had been hit by an earthquake…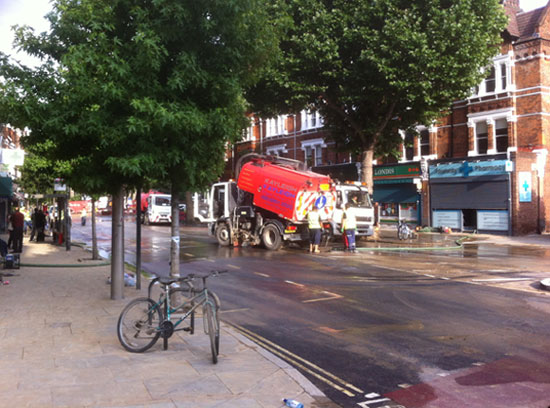 So now we are getting an idea of where the need lies, and what needs to be done. The damage is estimated at £4 million, and some businesses in Half Moon Lane will be closed for six months or longer.