News: Velodrome
Wheels for Wellbeing
You don't have to be sporty. There's a bike for everyone to try at the Herne Hill Velodrome, 104 Burbage Road, London SE24 9HE.
Find our more http://www.wheelsforwellbeing.org.uk/sessions [external link]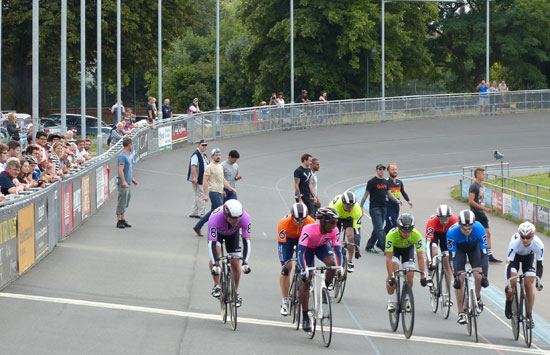 Herne Hill Velodrome's new Pavilion under way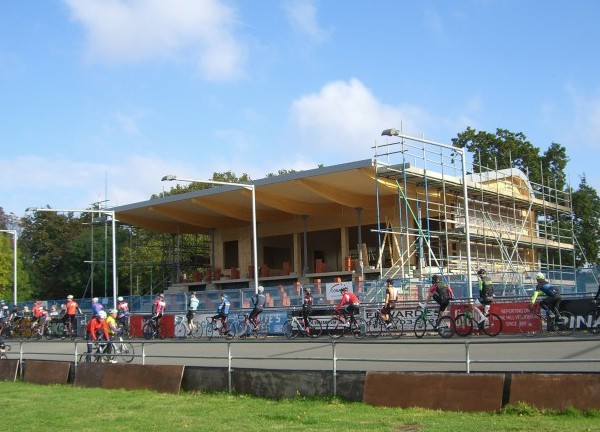 Herne Hill Velodrome (HHV) Trust Chair Hillary Peachey announced on 25 June 2015 that the Trust had been given the green light to build a new pavilion, to replace the Velodrome's disused grandstand.
It was a sad May Day, this year, to see the original 1891 Herne Hill Velodrome Grandstand building half demolished. With a few disconsolate, homeless pigeons, sitting on its broken roof. But six of its 10 iconic cast-iron Victorian pillars will, like the Phoenix, rise again, to support the canopy of the new Pavilion, due for completion early in 2017.
And, thanks to contractor Conamar's carefully placed blue-mesh fencing round the works areas, cycling will be continuing, almost uninterrupted, throughout the construction period.
There are cycle sessions for all ages and abilities, and the Friends of HHV's very attractive range of cycle merchandise.
Find out more at http://www.hernehillvelodrome.com [external link]
You can lend support by becoming a Friend of HHV or making a donation.
The plans
Phase 1: renovation and resurfacing of the main track - was achieved in Aug 2011 by British Cycling, after the Dulwich Estate granted it a 15-year lease on the track and infill, and a temporary 3-year lease on the rest of the site. Extension of this short-term lease is conditional on Estate approval of building plans, funding and a business plan to run the whole site.
Phase 2: 250m track for juniors and less able cyclists, and a multi-use games area, within the main track, plus lighting around it, to get more kids and adults into cycling and a healthier lifestyle.
Phase 3: replacement of the derelict grandstand and other buildings, now under way. Without this, and a long lease, it will be impossible to provide the pavilion, changing facilities, cafe, gym, etc. which HHV desperately needs, and to generate the necessary income to run the site.