Herne Hill Personalities
Herne Hill Personalities is on sale at local bookshops, including Herne Hill Books in Railton Road, London SE24.
How to order from us - UK only

* You can order through PayPal with a credit or debit card. Choose 'Check out as a guest' if you do not have (or do not wish to create) a PayPal account.
* We will add £1.50 P&P per item.
Go to Bookstall Online to order ->
About this book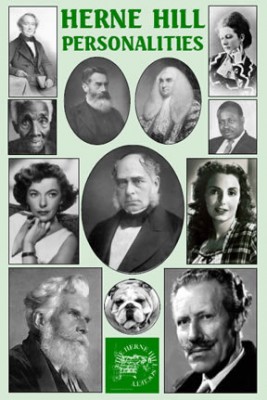 Biographies of 146 people who lived in Herne Hill (but are now dead): actors and archaeologists, murderers and missionaries, sailors and singers. And a former prime minister! Guess which one…
2006 | 151 pages | Illustrated | ISBN 978-1-87-352060-4
£5.00 | Trade terms available
Published by:
The Herne Hill Society
PO Box 27845
London
SE24 9XA
Go to Bookstall Online to order ->
Review on the Dulwich Society website [external link]
This title can be consulted at the British Library. General Reference Collection YK.2014.a.3005