Planning applications
The shape of things to come?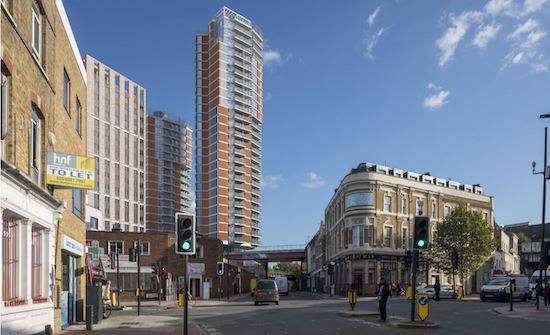 There is a proposal for two tower blocks rising to 29 and 20 storeys at Hardess Street, next to the railway line between Herne Hill Road and Milkwood/Hinton Roads. This is the potential view from Milkwood Road, looking towards Loughborough Junction!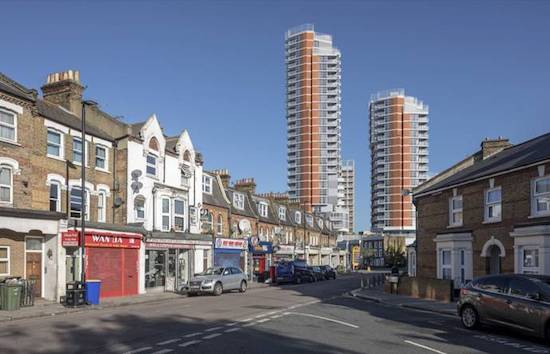 Full details of the planning application can be found on the Lambeth planning website. You then need to search for 19/04280/FUL. The Metaphorm application has 137 documents, many running to multiple pages.
The Herne Hill Society together with the Herne Hill Forum want as many people as possible to be aware of this proposal. We welcome the retention of light industrial uses at lower levels, but will make clear to Lambeth our strong opposition to the upper residential floors reaching the unprecedented heights that are proposed and, more generally, to over-development on this small site. The Loughborough Junction Action Group take the same view.
The Lambeth planning website allows anyone to make a comment. We are requesting an extension for the consultation (due to expire on 25 February 2020), but meanwhile we urge you to make your voice heard!
You can also add your comment on this page or email .(JavaScript must be enabled to view this email address)
---
What we do
The Society, through its elected Committee, considers that, if the Society is to play any part in the democratic local planning process it needs to be able to express views on behalf of the Society and to do so transparently. The weekly lists of applications issued by Lambeth and Southwark Councils are monitored and where it is felt that a comment might be called for, the application is referred to the Society's planning group. Once a response is agreed the Society puts in an objection, a comment in support or says nothing. The vast majority of planning applications are not controversial and do not call for comment. The Society welcomes views expressed by members on planning issues. We have also recently commented on the following:
The Temple, Brockwell Park, Lambeth 19/02327/LB and 19/02326/FUL
We objected to an application for alterations to the interior of the building and placing of shutters in place of bars on the windows, because the application was not for one defined scheme but for various alternatives and because insufficient detail was given for the shutters proposed and the manner in which they could be secured without putting the security of the listed building at risk. Since we commented the application has been revised, in particular to adapt the current window bars so that they can be removed when the building is in use as a proposed yoga studio. Lambeth is still considering the application.
Dulwich Hamlet Ground and Greendale Metropolitan Open Land, Southwark 19/AP/1867
We joined other local amenity and environmental groups in objecting to the proposal by developers who have acquired the Dulwich Hamlet Ground to build housing on the ground and construct a new stadium on adjacent Metropolitan Open Land (MOL), a scheme made possible by Southwark, as owners of the MOL, making that land available. We objected on the principle that the London Plan and Southwark's own policy give very strong protection to MOL and that no exceptional circumstances existed to go against that principle. We also emphasised that the developers bought with knowledge that the ground has a condition limiting use to leisure and recreational uses. The application has raised strong feelings, with loyal Dulwich Hamlet supporters pitted against others trying to prevent Southwark being pushed by developers into a bad planning decision. A decision is awaited.
Shurgard depot, Milkwood Road, Lambeth 19/02886/ADV
We objected to an application for illuminated signage on the Shurgard depot currently in the course of construction. We said that the application was misleading in stating the area to be "largely industrial", when it was light industrial on one side and residential with a park on the other. The proposed signage was too prominent and out of character with the residential neighbourhood and existing low-key light industrial units. A decision is awaited.
6 Elfindale Road, Southwark 19/AP/3350
We objected to a proposal for a top floor rear roof terrace on grounds that there was no precedent for such an alteration to houses in the area, that the arguments seeking to minimise the risk of noise nuisance were wrong and that the form of terrace proposed contravened Southwark's own Residential Design Standards. A decision is awaited.
Proposed electricity sub-station, Station Square, Lambeth 19/03371/FUL
We objected to a proposal to place an electricity sub-station in one of the very newly refurbished shops, acquired from Network Rail this year by the Arch Co. A sub-station is required if the shops are to function fully but we questioned the short-term logic of the decision, in that once a sub-station was installed it would stay there and a shop would be lost for good. We pointed that there was a viable and far more appropriate alternative, in the yard next to the station (owned by Network Rail). With goodwill on both sides that ought to be possible. If there really was no alternative we urged that the frontage be made to blend in better with neighbouring shop fronts, for example by creating window displays for other local shops. A decision is awaited.
Higgs Industrial Estate, Herne Hill Road, 18/05425/FUL
In view of some revisions to the scheme, to which we had earlier objected, we re-asserted our objections to this major development that proposes 134 dwelling units, more than 4000 sq.m. of commercial space and includes 8-storey blocks along Herne Hill Road and a 17-storey tower. Whether on the basis of density levels for an "urban" area (as we say this is) under the current London Plan, or density having regard to site context and infrastructure under the new draft London Plan, this is a gross over-development of the area. Our objection joins those of the Loughborough Junction Action Group, the Brixton Society and numerous individual local residents. A decision is awaited.
14 Dorchester Drive
We have drawn Lambeth's attention to the replacement of the original windows in this attractive Kemp and Tasker designed house with new single-pane sheets in steel frames. In our view, planning permission is required for such an alteration to a façade and none has been obtained. We await to hear what action Lambeth propose to take.
St Paul's Church, Herne Hill
We reported on our objection to alterations to the churchyard, reacting to multiple planning applications. Since then it transpires that, with the exception of an application for three illuminated notice boards, these applications were unnecessary because the church had obtained permission under a "faculty" from the Diocese of Southwark, churches being exempt from much of the planning process. We were not aware that such a faculty had been sought (publication was limited to display of a notice on a church notice board) and by the time we were it had already been granted. It seems that there was a "split decision" on the application for illuminated signs and the application was then withdrawn.
Southwark 18/AP/1626, land at Red Post Hill
The Society's planning group objected to a proposal to develop part of the garden of 'Lyndenhurst', the 18th century house at the junction Red Post Hill and Village Way, a listed building and part of a conservation area. Some would say this is more Dulwich than Herne Hill, but we felt that important principles were involved, and before commenting we also asked the Dulwich Society whether they had anything against our doing so. They did not. We objected because we felt the proposal plainly contravened Southwark's Conservation Area Appraisal for this garden land and their own planning policy with relation to conservation areas and 'backland' development. There were also issues regarding access and loss of amenity for the houses at 1–9 Red Post Hill.
Lambeth 18/02303/FUL, 30 Herne Hill
We objected to an application for approval for converting a house in single occupation to three flats. We were of the view that the application was defective in misstating the 'existing' state of the premises and that the applicant first needed full planning permission for extensive alterations to the house that would be required to accommodate multiple occupation. The application has been withdrawn.
Lambeth 18/02703/FUL
We objected to a conversion of the ground floor of a shop to residential, on grounds of the poor design quality. Many Victorian buildings designed for shops (with residential accommodation above) are no longer feasible as shops and the shops are turned into ground floor flats. More or often than not the design quality is wretched. The present example is not the worst, but it could be so much better!
Dee Dee's, 77 Herne Hill Southwark Licence Application Ref 863345
These premises have been a source of contention for many years. We opposed an application by the licence holder to extend the opening hours, on the grounds that the premises are in the wrong position for the sort of late night business that the applicant wants to promote. Southwark's own policy for a bar in a residential area is to limit the hours to 23.00. But they have now allowed a variation granting an additional hour.
6 Fawnbrake Avenue, Lambeth18/00024/FULREF
We informed Lambeth that we supported their decision to refuse permission for alterations which included an inappropriate triple basement window in the front elevation. The owner appealed the decision and we asked Lambeth to make our view known to the planning inspector.
14 Elfindale Road
Our attention was drawn by a local resident to a substantial "outrigger" loft conversion carried out without planning permission, but which Southwark said, after construction was complete, came within permitted development. We lodged an official complaint to Southwark, saying their decision was not based on a proper interpretation of the legislation. Southwark continued to seek to justify their decision and rejected our complaint. We consider Southwark to be wrong and their decision to be based on expedience rather than a correct interpretation of the law.
11 Wingmore Road, Lambeth 17/05598/FUL
Wingmore Road is unusual for retaining throughout the street its original "London" or "buttefly" roofs, i.e. gently pitched roofs concealed by a parapet. We objected to an application to introduce the first mansard and dormer roof extension in the street, causing the loss of its original historic form and character, something that is becoming increasingly rare due to the popularity of such extensions. Lambeth has permitted the development.
194-198 Railton Road, Lambeth 17/06222/FUL
We supported an application for the enlargement of this building by the addition of two storeys. The project has Lottery funding and from the Mayor and will encourage arts-based employment and skills in BAMER (Black, Asian, Minority Ethnic and Refugee) communities. We felt the design, by Brixton-based architects Carver Haggard was of high quality and appropriate for the location.
Park's Edge, 49-51 Norwood Road, Southwark18/AP/0384
We objected to a proposal to site a BT "Inlink" unit 3.9m tall on the pavement outside Park's Edge restaurant in Norwood Road. We said the installation contravened Southwark's own policies and damaged views to and from Brockwell Park, a conservation area. Southwark have given permission.
---
For your information: What is an S106 agreement? [external link]