News: Carnegie Library
Planning application passed
Despite strong representations from our planning expert David Taylor, Jeff Doorn on behalf of the Friends of Carnegie Library and local resident Sara Bredemear, on Tue 7 February 2017 Lambeth's Planning Committee voted by a majority in favour of GLL's application to install a gym in the building.
The meeting was held at Bolney Meadow Community Centre (literally miles away from Herne Hill). Despite this, over 80 members of the public attended.
Read the Herne Hill Society's objections
On Thu 31 March 2016, the Carnegie Library, a Grade II-listed Edwardian building, was closed by Lambeth Council.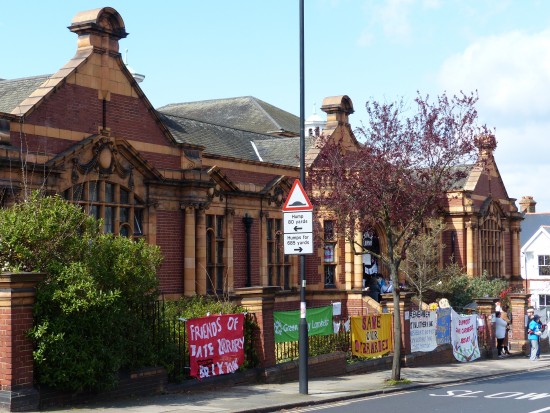 Asset Transfer
The Council's plan is for the building is to be run by Greenwich Leisure Ltd (GLL); however they are in favour of transferring the building's management to local people who would acquire it through an Asset Transfer procedure.
Two competing groups have submitted a business plan for Asset Transfer of the Carnegie to community ownership.
You can read more on their websites [external links]
The Carnegie Community Trust CIO
The Carnegie Library Association CIO [PDF]
Price Waterhouse Cooper have been commissioned by Lambeth to evaluate the two business plans. When the PWC report will be presented to Lambeth is not currently known.
It is clear, in the Society's view, that both the organisations bidding for an asset transfer want to secure a future for the building, one that will provide community uses, including a meaningful library service. That is an aim strongly supported by the Society. The Herne Hill Society has not expressed a preference for either submission.
Correspondence with Lambeth
The Herne Hill Society has written to Councillor Lib Peck, Leader of Lambeth, raising a number of questions, particularly about the proposed use of the basement.
Letter to Cllr Peck of 6 May 2016 [PDF]
We received this reply, dated 24 May 2016.
Letter from Cllr Peck of 24 May 2016 [PDF]
Further information
In 2015 Lambeth published a consultation document, "Culture2020". This included a set of proposals for the future of its public libraries and parks – see http://www.lambeth.gov.uk/sites/default/files/cultural-services-by-2020.pdf