Brockwell Passage
Nearly all the major work on the Junction Project was finished back in 2010. But there remains one important thing to be done: widening and upgrading Brockwell Passage. This would significantly improve what is a very unprepossessing alleyway. It would also enhance access between the station and the buses in Dulwich Road, increase footfall to the benefit of Dulwich Road shops and provide a potential space for expanding the very successful Sunday markets in Railton Road.
Below is a plan of the current layout of Brockwell Passage, with its rather unpleasant blind corner that is not improved by its use as an outdoor urinal.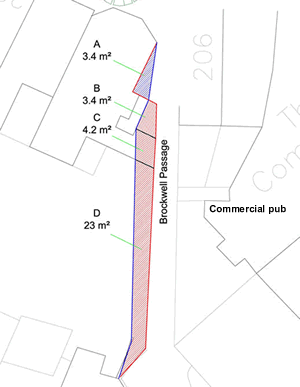 As a result of our urging action by Lambeth, an approach to Transport for London resulted in their agreeing to pay the £115,000 needed.
To widen the passage, it has been necessary for Lambeth to buy a strip of land, about 1.5 metres wide, from the freeholders. The approval of leaseholders for the consequential rebuild of part of their properties was also needed.
The long delays in the project have meant that the original planning approval lapsed, and another application has had to be submitted to Lambeth. We expect a decision in early September.
Once these issues are out of the way, work can start. However, a number of alterations have to be made to the building at the north end of the Passage that houses the betting shop, with a flat above. The betting shop owners have decided they wish to organise this themselves rather than rely on Lambeth's contractors. Under the terms of their contract with Lambeth, the owners can do this and have six months to complete the work. Then the main work to widen the Passage can begin. We hope they will get this done much more quickly, otherwise completion may well not happen until next summer; and we've already waited long enough. Work on the passage was supposed to have been done in autumn 2011!