News: Brockwell Park
Night-time (un)locking of Lambeth parks
As part of cost-cutting proposals, Lambeth Council has been considering leaving its parks unlocked at night. This was projected to save £50-70k a year. However, we now understand that this proposal is likely to be rejected by Cabinet as a result of pressure from local groups and the Police.
Brockwell Park clock-tower
A fundraising campaign started by former Lambeth Mayor Rudy Daley and the Friends of Brockwell Park raised over £20,000 to restore the neglected Tritton Clock in Brockwell Park to its former state. It was given to the public by the MP for Norwood, Charles Ernest Tritton in 1897 to mark Queen Victoria's Diamond Jubilee, but for a long time was in a poor condition and not working.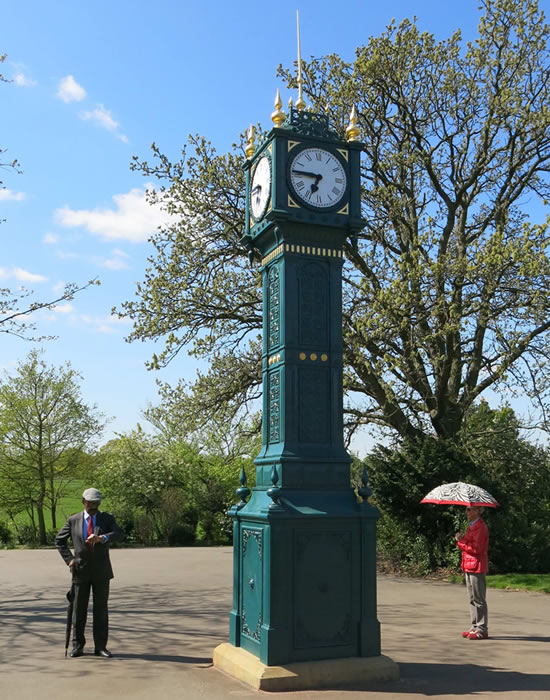 Following conservation work by the original manufacturers of the clock, Gillett and Johnston, it is now working again, fully restored and decorated in green and gold, as described in the South London Press on 3 July 1897. The restoration has preserved the original mechanism of the clock, which needs to be wound by hand every few days.
The restoration was celebrated on 3 May 2014. On the left is Deputy Mayor of Lambeth Adedamola Aminu, in the middle is Rudy Daley (first donor) and on the right is Peter Bradley (Chair FOBP and of the Clock-tower Project Group).
Three local organisations, the Friends of Brockwell Park, the Herne Hill Society and the Brockwell Park Community Partners took on the project, with support from Lambeth Council, in May 2013. The scaffolding came down and the clock was restarted at the beginning of April 2014.
A huge thank-you to all who so generously contributed to the Project.
Background
The clock and its tower next to Brockwell Hall were presented by the second MP for Norwood, Charles Ernest Tritton, in 1897 to commemorate Queen Victoria's Diamond Jubilee. The clock kept time in the Park for nearly 100 years but had not worked for two decades. In design it is similar to the 'Little Ben' near Victoria Station.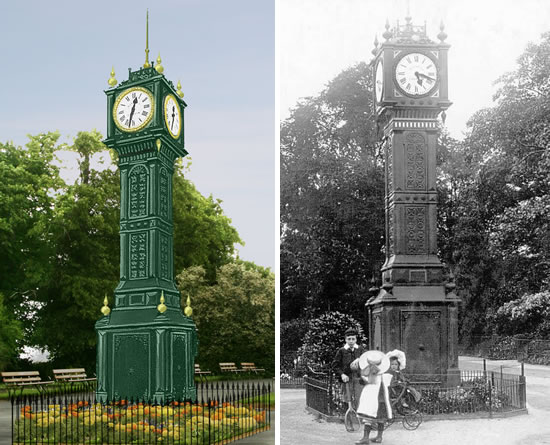 More about this project on the Herne Hill Society blog [External link]
More about the Renewal of Brockwell Park