About the Society: Society meetings
Our meetings and how to get there
Our public meetings are held on the second Wednesday of most months at Herne Hill United Church Hall, Herne Hill (junction with Red Post Hill), London SE24 9PW.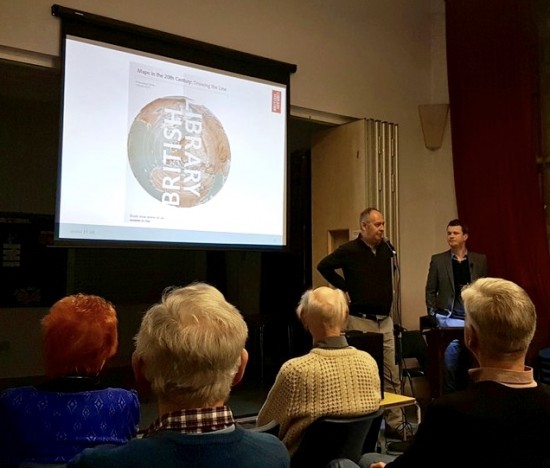 For venue (unless otherwise stated), see the map at the bottom of this page. Our guest will normally speak for 45 - 60 minutes, followed by around 15 minutes for questions and discussion. Then we take a refreshment break, a raffle and announcements.
Meetings are free and open to non-members, so bring your friends along. But as no tickets are issued, we cannot guarantee a seat.
We start promptly at 7:45pm (doors open at 7:30pm). Please arrive before the speaker is introduced to avoid disturbing others.
Winter/Spring 2017 calendar
Wed 8 February, 7:45pm
"From Sumo to Ainu: Traveller's Tales from Japan"
by Peter Bradley, local historian
Lured by a desire to see weighty men wrestling and to discover more about its indigenous people, Peter Bradley paid a three-week visit to Japan in cherry blossom season. From calligraphy to cuisine and temples to toilets, he gives his own idiosyncratic take on the Land of the Rising Sun.
Wed 8 March, 7:45pm
Annual General Meeting
followed by a talk
"Herne Hill Remembered: Uncovering the Community's First World War Experience"
by Dan Townsend, Head of History, Charter School
The venue, and how to get there
Herne Hill United Church Hall is the smaller building next to the Church. It is on the 68/468 and P4 bus routes, and a 15-min walk from the following stations: Herne Hill, Denmark Hill, Loughborough Junction and North Dulwich.
The hall is accessible to wheelchair users.
Meetings you may have missed
To get an idea of the sort of events we put on, go to our Facebook page. Talks are reviewed in our quarterly Herne Hill magazine.