About the Society: Society meetings
Our meetings and how to get there
Our public meetings are held on the second Wednesday of most months at Herne Hill United Church Hall, Herne Hill (junction with Red Post Hill), London SE24 9PW.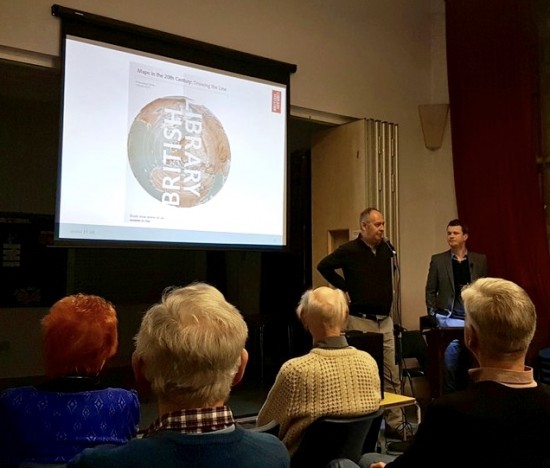 For venue (unless otherwise stated), see the map at the bottom of this page. Our guest will normally speak for 45 - 60 minutes, followed by around 15 minutes for questions and discussion. Then we take a refreshment break, a raffle and announcements.
Meetings are free and open to non-members, so bring your friends along. But as no tickets are issued, we cannot guarantee a seat.
We start promptly at 7:45pm (doors open at 7:30pm). Please arrive before the speaker is introduced to avoid disturbing others.
Talks
Wed 8 March, 7:45pm
Annual General Meeting
followed by a talk
"Herne Hill Remembered: Uncovering the Community's First World War Experience"
by Dan Townsend, Head of History, Charter School
Wed 12 April, 7:45pm
"Secret Underground London"
by Nick Catford
Take a tour of some surprising hidden sites, uncovered by the speaker, who has written a book on the subject.
Wed 10 May, 7:45pm
"Sir Alfred Manns" (TBC)
by Adrian Falks
The life and career of the Music Director at Crystal Palace, who held the post for 50 years, will be illustrated by images and musical examples.
Sat 3 June, 7:45pm
Third Annual Thomas Lynn Bristow Memorial Lecture (TBC)
Please note this talk will be held at Brockwell Hall
The venue, and how to get there
Herne Hill United Church Hall is the smaller building next to the Church. It is on the 68/468 and P4 bus routes, and a 15-min walk from the following stations: Herne Hill, Denmark Hill, Loughborough Junction and North Dulwich.
The hall is accessible to wheelchair users.
Local History Walks
Robert Holden will lead three walks in August based on our book, Herne Hill Heritage Trail.

Sun 6 August, 2:30pm
All Saints' Church, Lovelace Road entrance
Sun 13 August, 2:30pm
Herne Hill Velodrome, Burbage Road entrance
Sun 20 August, 2:30pm
Herne Hill Station

Each walk lasts about 90 minutes.
Meetings you may have missed
To get an idea of the sort of events we put on, go to our Facebook page. Talks are reviewed in our quarterly Herne Hill magazine.