'The beginnings of Herne Hill'
At the northern foot of the hill was Camberwell Lane (now Coldharbour Lane) and, on its crest, Ashpole Lane, now Red Post Hill. In the valley there were roads that led to Dulwich and Norwood. Another road from Stockwell brought pilgrims: following the River Effra along Croxted Lane towards the Pilgrims' Way and Canterbury.
Herne Hill was well covered with trees; but after the Civil War ended in 1651 many were cut down for ship-building and domestic use. Afterwards the land gradually passed to a mixture of farms, small holdings and woods. However, in the mid-18th century, as John Rocque's map shows, the area was still very rural, with a small population.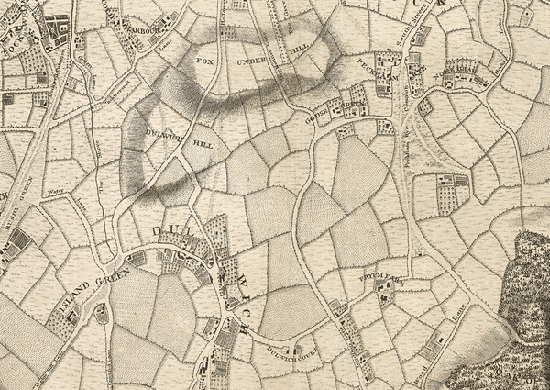 The bridges over the Thames at Westminster (1750) and Blackfriars (1769) enabled London to expand south. Houses, shops and businesses grew up along new roads built through open country to villages such as south Lambeth, Stockwell, Walworth and Camberwell. But for those who lived in Herne Hill but worked in the City the only means of transport was by horse and carriage. Hence only the wealthy came to live there.
Local landowners resisted over-development of the area. They included the Dulwich College Estate, which owned the Camberwell side of Herne Hill and Denmark Hill, and Samuel Sanders, a wealthy timber merchant. In the 1780s Sanders bought part of the 'Milkwell' Manor estate, fronting onto the Brixton side of Denmark Hill. The Dulwich College Estate and Sanders's descendants prevented the extensive and crowded housing developments characteristic of the neighbouring areas to the north. They did, however, grant leases to wealthy people, such as city merchants and bankers, who built some large and very fine houses on Denmark Hill and Herne Hill.
Denmark Hill became known as "the Belgravia of South London".